Lets talk about a world where the paranormals come alive.
Every Paranormal book has a special world or atmosphere where it's paranormal creatures reside, and most of the times (for me, anyways) this is extremely important, because if I hate the world that's been created.... than I won't like the book. It's like the fudge to the chocolate fudge sundae... and lets face it: A sundae isn't a sundae without it's fudge.
There are SO many great paranormal worlds out there that I just love. Personally, my favorite kind of books are the ones with a fully developed atmosphere and surroundings. It really helps drag you in the book and makes you feel like you're the one living there.
Today I have Lauren from
Losing Time Reading
here to chat with you all about her favorite Otherworldly place! What a hard choice that is... I can think of hundreds that I adore!
Without Further Ado..
Hi Everyone :) I'm Lauren from Lose Time Reading and for Rola's awesome event, Night's of Fright I'm going to be talking to you about the best paranormal world !
I have to admit, when trying to think of the best paranormal world I was almost in panic mode. First I couldn't decide what my favorite world was and then I started to rethink what paranormal was. I realized that most of my favorite paranormals are actually fantasy...but after some quick Google research I realized crossovers are common and paranormal can cover just about anything in fiction from vampires to physics. Phew. After that was confirmed I then had to tackle the hard task of choosing the best. That's a huge title to just dish out - there is so much amazing world building on the genre. I went over and over the books I read and reread chapters and scenes and I couldn't decide. Obviously I love a lot of the common favorites - The Mortal Instruments, Harry Potter and Vampire Academy but I kept thinking there was something else I wasn't quite putting my finger on. And then I had it..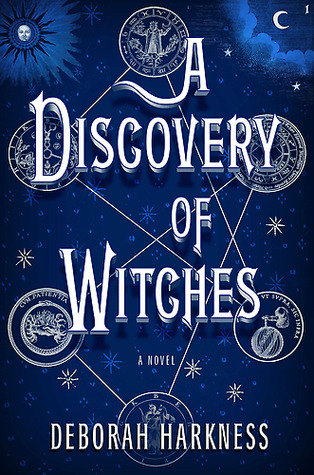 The All Souls Trilogy by Deborah Harkness.
Right now only the first two books in the series are published A Discovery of Witches & Shadow of Night. The series revolves around two main characters, Diana-a witch and alchemist and Matthew-a vampire. The meet in England while Diana is doing research and puts a call at the library for an ancient manuscript. Little does she know is that no one has been able to call up this manuscript and it holds the key to the creation of all creatures. Matthew is there to get his hands on the manuscript but his plans quickly change, he falls and love with Diana. The first book is set in present day with a lot of travel between England, France & America and the second book involves a lot of time travel-they go back into the 1500's. The best word I could use to describe this would be enchanting... I felt like I was under a spell when I read this, especially the first one.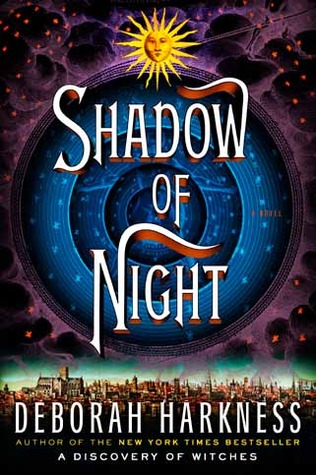 I guess you could say this is essentially paranormal historical fiction. There is a lot of history in this book, and it's clear that the author put a lot of time and research into that aspect of the book. The world this takes place in is interesting. Daemons, Witches & Vampires exist and humans more or less know they exist but prefer not to draw attention or acknowledge the existence but essentially everything else is the same as the world we live in today. I think I love this world the best because you could almost believe for a second it could be real. Nothing is different in the world, except for the magic that exists. I can certainly say that some days I wish we lived in a world with witches, vampires & daemons... it would be so interesting ;) Vampires and witches are my two favorite paranormal creatures so it makes sense that I would choose a series that has both.
There are so many elements to this series, the world that Deborah Harkness has created and built upon just enchants you and leaves you wondering if this could be real. To sum it up, I guess MY best paranormal world is one that is so simple but so complex in the same.
Thank you so much Rola for having me as a guest in your awesome Halloween series <3
I haven't read the series yet, but that does sound intriguing! ahhhh, A world with paranormals.... Why is reality so lame?! hah!
Thanks for popping by Lauren, it was great to catch a glimpse into your favorite paranormal world! I do love a perfectly crafted world... maybe i'll just have to pick these up ;)
Lauren & I want to know.... What's YOUR favorite Otherworldy Place